Healey 2.4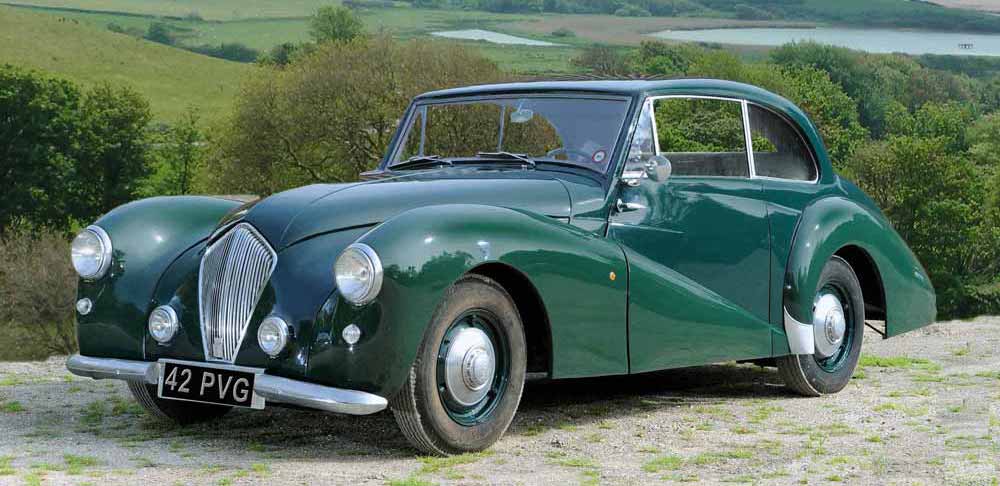 Just like so many other car manufacturers, Donald Healey first cut his teeth on motor racing. His first crack at the Monte Carlo Rally was in 1929, driving a Triumph 7, and success came in 1931 when he won it with a 4.5 litre Invicta. The following year he came in second. He was then employed by Riley, and then the Triumph Motor Company; and in 1934 he achieved a class win, and third place overall, in the Monte Carlo rally again, this time driving a Triumph Gloria that he had designed himself.

By 1939, sadly, Triumph like so many British car manufacturers went into liquidation; Healey stayed on in their old factory manufacturing aircraft engine parts but his ultimate ambition was to build his own cars, and the culmination of his dream was the Healey 2.4 litre, which was first offered for sale in 1948.

At it's launch the car was claimed to be the fastest production non-open car in the world; an earlier pre-production model had been taken up to 111 mph by Healey himself in Belgium. The fully roadworthy saloon car was a little slower at a timed 104.7 mph but this still made it Britain's first production car that could exceed 100 mph. Some of the credit for this can be claimed by the aerodynamic design of the car; this had been shaped with the assistance of windtunnel tests which at the time were a rarity.

The engine was a well tested Riley 2.4 litre four-cylinder engine with twin cams; which could pump out 104 brake horsepower. The chassis was light, but very rigid; front trailing link suspension, which was carried over from the racing designs he had worked on prewar, gave soft springing without detriment to roadholding, which was excellent. Two models were available initially; the Elliott saloon and an open car named the Westlake. The body was made of aluminium over an ash frame and a distinctive kite shaped grille became the hallmark of Healey cars.

His cars were raced in various events by several drivers including Healey himself and one of them came first in the Mille Miglia Touring Class in 1948. However, the car's nemesis was on the horizon!

During the war design work had been carried out on a new Jaguar engine, the straight six cylinder XK, which was fitted into the XK120 and set new standards for speed and reliability. This was a car capable of a true 120 mph and very quickly Healey's 2.4 litre was overshadowed. Healey moved on to other projects whilst Jaguar's XK 120 engine continued in production with numerous improvements Right up until 1992.

During it's lifetime a total of just under 600 Healy 2.4s, in various forms, were sold before production was abandoned.